Email Marketing - Constant Contact

Create and Send Eye-Catching Email Campaigns Using our Constant Contact Email Marketing Service we can create email newsletters and announcements that get immediate and measurable results.
Over 90 Templates to Choose From
With our eye-catching HTML email templates and powerful features we can easily create stunning email campaigns for you. From professional email newsletter designs to compelling holiday and seasonal promotions and timely event invitations, looking good has never been so easy!
We will setup your Email Campaigns
Want to send a monthly Newsletter? Want to send a one-off Summer Sale announcement? Want to tell everyone about your new "Price Promise Guarantee"?
We will design and setup an eye-catching Email Campaign for you based on whatever ideas you have. Once setup, you can use the design of the Email Campaign over and over again without incurring any further setup fees.
Helping you build & manage your Email Lists
We will help you build and develop your most important asset -- your email list! Collect the email addresses from existing customers and allow site visitors to sign up with a Visitor Signup Form, add a Send Page to a Friend option to every email, and watch your email list grow with each email campaign you send.
Are all of your customers in a contact database, in Outlook® or in a spreadsheet? Our package allows you to easily import your database from a .csv or .txt file.
Real-time Reporting
Not only get to send great looking emails, but you can track campaign results as they happen. Within minutes of sending each email campaign, you will see who opened your email, which links generated the most interest and who clicked on each link.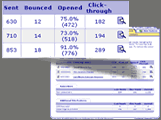 Email campaign reports show you :
How many emails were sent and delivered
What percentage of your subscribers opened each email
Which links generated the most click-throughs
Who opened and clicked through each email
How many (and who) opted-out of each email
High Email Delivery Rates

Our service provider will monitor all outgoing email to ensure that all major ISPs and corporate domains are successfully accepting your email. If there is a "blip" on the receiver's end when your email campaign is being sent, our provider will make continued attempts to send your email while quickly addressing the problem with the ISP.
No High or Unexpected Fees
Our Email Marketing service is priced affordably for small business, we also provide full training for your future email campaign designs and strategies.
Sign Up Fee: This small fee includes full training and design of first Email Campaign.
Monthly Fees: Monthly fees are based on the number of email addresses in your list, please contact us for more details, call us on 01536 713834 or Email Us.
If you are interested in our email marketing then give us a call on 01536 713834 or Email Us.